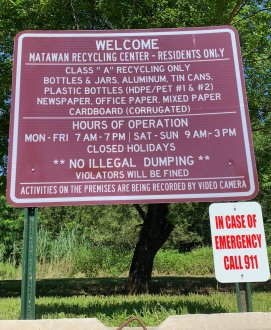 New Recycling Center
62 Main Street
Matawan, NJ
There is a new Matawan Recycling Center. In order to access the center, Matawan Residents must go to the Municipal Building to obtain an access card. Each residence will receive one access card. Please bring a driver's license (with current address) or property tax bill for proof of residence. Additional details can be found below.
You must obtain an access card at:
Matawan Municipal Building
201 Broad Street (window 1)
Matawan, NJ 07747
Each residence will receive one initial access card (fee free).
Hours of Operation:
Monday through Friday
7:00 am - 7:00 pm
Saturday & Sunday
9:00 am - 3:00 pm
You will need:
proof of residency - (driver's license with current address) or property tax bill
vehicle plate numbers (up to four at the same address)
Items allowed:
commingled - bottles (glass & plastic) cans (no paint cans)
cardboard (corrugated) must be broken down or flattened (NO SHREDDED PAPER OF ANY KIND)
newspaper,mixed paper
brush - branches 3 inches in diameter or less only
yard debris - no grass, mulch, wood chips, soil or stones
absolutely no plastic bags - please take them back with you if using for transportation to facility.
metals - aluminum, steel - (no paint cans of any kind)
NO PROPANE TANKS
Electronics allowed:
portable / laptop computers (remove all identifiable labels if possible)
fax machines
main frames stereos & radio equipment
televisions
humidifiers
monitors
cable attachments
e-book readers
ups/battery backup (no car, boat or motorcycle batteries)
scanners
wire
speakers
microwaves
dehumidifiers
cell phones & telephones
mp3 players
printers
keyboards & mice
telecommunications
vcr / dvd players
space heaters
servers
copiers
cameras
modems
- No trash or construction debris of any kind -
---
Photos from the Ribbon Cutting held Wednesday, June 26, 2019.