<!- sidebar-file='/sites/www.matawanborough.com/web/matawan/Borough SERVICES/_zumu_sidebar.html' -->
<!- box:2021side-1 -->
Borough SERVICES
Borough Directory
Administration
Borough Clerk
Construction
Finance
Fire
Fire Prevention Bureau
First Aid
Health
Employment Opportunities
Library
Mayor & Council
Municipal Court
Notify Me
Office of Emergency Management
Police
Property Maintenance
Public Works
Railroad Parking
Recreation
Recycling
Registrar of Vital Statistics
Tax Assessor
Tax Collector
Utilities
Zoning
Recycling
Grace Rainforth , CRP, SRMP, CCCC
Certified Recycling Coordinator
732-566-3898 ext.132 - Email: Recycling@matawanborough.com
Matawan Municipal Community Complex
201 Broad Street
Matawan, NJ 07747
FOR MISSED TRASH OR RECYCLING PICKUP PLEASE
CONTACT RTS @ 1-833-787-4636 or EMAIL MATAWAN@RTS.COM
Effective February 15, 2021
TRASH pickup will be on Monday
RECYCLING pickup will remain on Thursday.
Resident Notice - All recycling should be placed in a recycling can (32 Gallon or less) clearly labeled recycling - not in plastic bags. Only trash should be placed in plastic bags and in a trash can (64 Gallon or less).
GET PAST PLASTIC - NEW PLASTIC RECYCLING INFORMATION
Recycling Center Information for Residential Property Owners TO OBTAIN AN ACCESS CARD PLEASE CALL 732-566-3898 X600 TO SCHEDULE AN APPOINTMENT. YOU WILL BE REQUIRED TO FILL OUT A FORM - PROVIDE PROOF OF RESIDENCY ALONG WITH A COPY OF REGISTRATION FOR VEHICLES LISTED FOR ACCESS.
(Residents in Apt. Complexes need to contact the property manager at their complex for information on Trash and Recycling required for their apartment complex and location of where to place recycling.)
2023 TRASH & RECYCLING CALENDAR FULL COPY
2023 TRASH & RECYCLING CALENDAR FRIDGE COPY
MONMOUTH COUNTY RECYCLING GUIDE
Don't throw away old chargers
If you said, "throw them away away," you wouldn't be alone. You'd be wrong, but you'd be wrong alongside a lot of other people. As it turns out, you're not supposed to throw away old Lightning chargers , or any old cables for that matter. It's a common misconception, which is probably why over half of respondents to this Reddit survey said the same.
Chargers, after all, are made up of plastic, metal, and other elements that won't be broken down in nature (or a landfill). Chucking e-waste in the trash is terrible for the environment, and you should avoid it whenever you find you no longer need a charger. Instead, you should be recycling those cables like any other technology. But it's not as obvious as it sounds.
How to recycle old chargers
You can't throw your Lightning cable in your recycling bin and call it a day. While recycling standards vary depending on the town or city where you live, they're unlikely to accept your chargers alongside your plastic bottles and yogurt cups.
Luckily, there are plenty of recycling options when it comes to getting rid of your old cables. First, you can drop off any cords or wires at any Best Buy store and they'll recycle them on your behalf. You can even mail them in if you don't have a store near you. Alternatively, you can use Earth911's search locator to find a nearby e-waste recycler which might strip o ut the metal components of your cables for recycling. Apple will also happily take your cables for recycling (and sell you a new one while they're at it).
NJDEP Bureau of Sustainability Information
9 Reasons You Should Switch to Biodegradable Packing Peanuts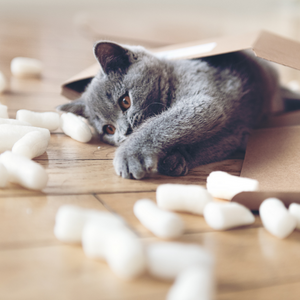 Traditionally, packing peanuts have been made from expanded polystyrene foam, also known as Styrofoam, but due to the environmental hazards of Styrofoam, there has been an industry shift to use biodegradable packing peanuts as a more environmentally friendly option.
The move to create eco-friendly packaging has provided innovations that have helped customers move away from Styrofoam in order to take advantage of these advances in biodegradable peanuts.
Here are some reasons you should move away from polystyrene peanuts to some of these eco-friendly alternatives.
Benefits of Biodegradable Packing Peanuts:
Made from all natural sources : Starch based packing peanuts are made from plants such as corn, wheat, potato, and sometimes mushrooms, whereas traditional polystyrene packing peanuts are made from petroleum.
Non-toxic : While no one is recommending humans eat packing peanuts since they are not produced as food grade items, they are technically made from plant-based products. This means they are non-toxic and safe in case kids or pets accidentally eat them. This also means animals or birds that might try to eat them from the garbage or landfill will not be consuming plastics. A common concern is that using these as a packaging material could attract rodents and pests, but since the sugar component is removed from the starch material, it is unlikely to be an issue.
Easy to identify : Many companies use a color coding system to indicated if their peanuts are virgin polystyrene, made from recycled plastics, or biodegradable. Starch-based packing peanuts are typically an off-white color, but not always. The best way to test if peanuts are biodegradable is to run them under water. Biodegradable packing peanuts dissolve in water in a matter of minutes.
Compostable : While you aren't able to recycle any packing peanuts, you are able to compost biodegradable peanuts in your home compost. If your municipality runs an organics program, you can check to see if they accept this item along with other food and organic waste.
Uses less carbon emission to produce : This type of loose fill uses less energy and produces less carbon emissions that contribute to greenhouse gas emissions than the production of Styrofoam peanuts. One study estimates that using corn-based bioplastics can reduce GHG emissions by 25%.
Anti-static : Some items, such as certain electronics, require static-free packaging for shipping. Biodegradable packing peanuts are perfect for this kind of shipping item. This means they also do not stick to your clothes.
Produced with waste products : Some companies are trying to solve the issue of diverting food to plastics production by creating a more circular economy model. Bioplastic producers, such as Full Circle, are using food byproducts to create bioplastics instead of using new crops. This means the materials used to produce the packing were planned to be discarded. Another company, Mango Materials, is using waste biogas as a way to produce bioplastics. By switching to bioplastic packaging products, you may be helping to repurpose waste into the production of a new product, creating a circular economy.
Reusable : While this is true for both biodegradable or Styrofoam loose fill, it is worth mentioning that packing peanuts are able to be reused again and again.
Stronger than polystyrene : Styrofoam loose fill tends to snap under pressure, but biodegradable peanuts have proven to be more resilient in crush tests.
Sustainable Solutions
Biodegradable packing peanuts are an overall more sustainable solution for loose fill. When shipping items, it's always important to look for all the most eco-friendly options.
Finding alternatives that are more eco-friendly seems is a great option when dealing with packing peanuts. Biodegradable packing peanuts are the logical solution to combat the plastic waste issues associated with loose fill polystyrene packing peanuts.